Hu, Bernat Featured in Society for Women Engineers magazine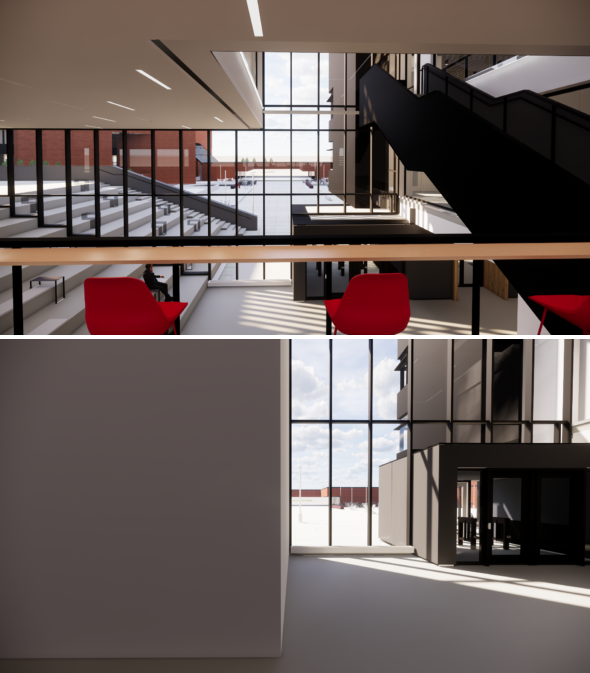 Assistant Professor Ming Hu (MAPP) and Associate Professor Ed Bernat (PSYC) were recently featured in All Together, the magazine of the Society for Women Engineers (SWE), for their BBI Seed Grant-funded collaboration examining the neuroscience of sustainable architecture. The story, "This Is Your Brain on Green Buildings," describes how Hu and Bernat, along with Professor Madlen Simon (MAPP), are developing technology-enabled, repeatable measures for assessing the human brain's responses to green architecture.
The project looks to quantify the "soft" benefits of building design in order to intervene in the pre-build stage. Whereas post-occupancy health hazards such as air quality are relatively easy to measure and remediate, the effects of design elements of buildings—e.g. daylight levels, outdoor views, and spatial qualities—are more difficult to pin down. The team's research will enumerate the effects on mental health and wellbeing of just these sorts of pre-build design elements. Indeed, their first findings are promising: "From the still images, we can show strong occipital (area that controls vision) activity increased by the green environment," Bernat notes in the story. "We think that may have to do with the stronger visual features in the green building, like seeing through windows."
The team also stresses the importance of interdisciplinary research. Hu asserts that crossing disciplinary boundaries is a cornerstone of her work in architecture. "I've always viewed myself as first a design engineer, and then an architect," Hu says in the story. "Neuroscience should be another discipline considered part of the design world, as a valid method to quantify the social benefits and all the other benefits of green building. We need to combine brain science, engineering, and architecture. It shouldn't just be one or the other."
SWE is a not-for-profit educational and service organization that empowers women to succeed and advance in the field of engineering and to be recognized for their life-changing contributions as engineers and leaders. Founded in 1950, SWE provides an exciting array of training and development programs, networking opportunities, scholarships, and outreach and advocacy activities.
Published January 31, 2020