John Baras receives AACC Richard E. Bellman Control Heritage Award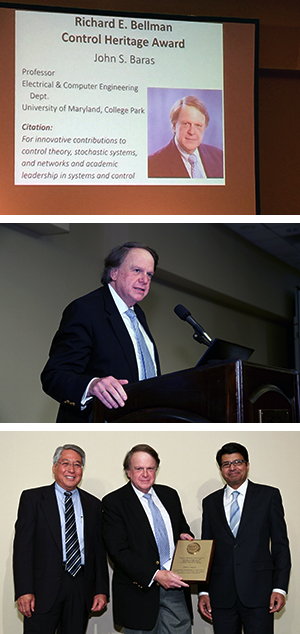 Professor John Baras (ECE/ISR) is the recipient of the American Automatic Control Council's (AACC) 2017 Richard E. Bellman Control Heritage Award. He accepted the award at the 2017 American Control Conference (ACC) Awards Ceremony in Seattle on May 25, 2017.
The Bellman Award is given for distinguished career contributions to the theory or application of automatic control. It is the highest AACC recognition of professional achievement for U.S. control systems engineers and scientists. The recipient must have spent a significant part of his/her career in the United States. The award consists of a plaque and an honorarium of $10,000.
The citation for Dr. Baras' award reads, "For innovative contributions to control theory, stochastic systems, and networks and academic leadership in systems and control."  View slides from AACC President Glenn Masada's remarks about the award and his introduction of Dr. Baras.

The awardee is expected to make a short acceptance speech at the AACC Awards Ceremony during the ACC. You can read Dr. Baras' acceptance speech online at the AACC website or download a PDF of the speech from the ISR website.
The 2017 ACC Awards Ceremony was videotaped, and it will be posted on the IEEE and IFAC (International Federation for Automatic Control) websites by the end of this summer. The video recordings and Dr. Baras' acceptance speech will be available at http://www.ieeecss-oll.org/ . [Click on "ACC" in the "Lecture Type" window, choose a time period, and click the "Apply" button.]
Published May 25, 2017