Simon is co-editor of new Springer auditory research book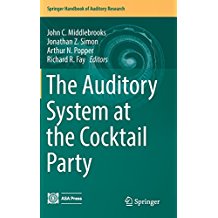 Professor Jonathan Simon (ECE/ISR/Biology) is an editor of the new book, The Auditory System at the Cocktail Party, published by Springer. In addition to Simon, the editors include John Middlebrooks, Arthur Popper and Richard Fay. Chapter authors include Simon, Matthew Goupell (Hearing and Speech, BSOS, NACS); and alumna Mounya Elhilali (ECE Ph.D. 2004), now on faculty at Johns Hopkins University in Baltimore.
The Auditory System at the Cocktail Party points to the very serious challenge faced by listeners in most everyday environments: how to hear out sounds of interest amid a cacophony of competing sounds. The volume presents the mechanisms for bottom-up object formation and top-down object selection that the auditory system employs to meet that challenge. Chapters include:
Ear and Brain Mechanisms for Parsing the Auditory Scene by John C. Middlebrooks and Jonathan Z. Simon
Auditory Object Formation and Selection by Barbara Shinn-Cunningham, Virginia Best, and Adrian K. C. Lee
Energetic Masking and Masking Release by John F. Culling and Michael A. Stone
Informational Masking in Speech Recognition by Gerald Kidd, Jr. and H. Steven Colburn
Modeling the Cocktail Party Problem by Mounya Elhilali
Spatial Stream Segregation by John C. Middlebrooks
Human Auditory Neuroscience and the Cocktail Party Problem by Jonathan Z. Simon
Infants and Children at the Cocktail Party by Lynne Werner
Older Adults at the Cocktail Party by M. Kathleen Pichora-Fuller, Claude Alain, and Bruce A. Schneider
Hearing with Cochlear Implants and Hearing Aids in Complex Auditory Scenes by Ruth Y. Litovsky, Matthew J. Goupell, Sara M. Misurelli, and Alan Kan
The book is part of the Springer Handbook of Auditory Research series, which presents synthetic reviews of fundamental topics dealing with auditory systems. Each volume is independent and authoritative; taken as a set, the series is the definitive resource in the field.
Published April 14, 2017