Alum develops bioelectric effect toothbrush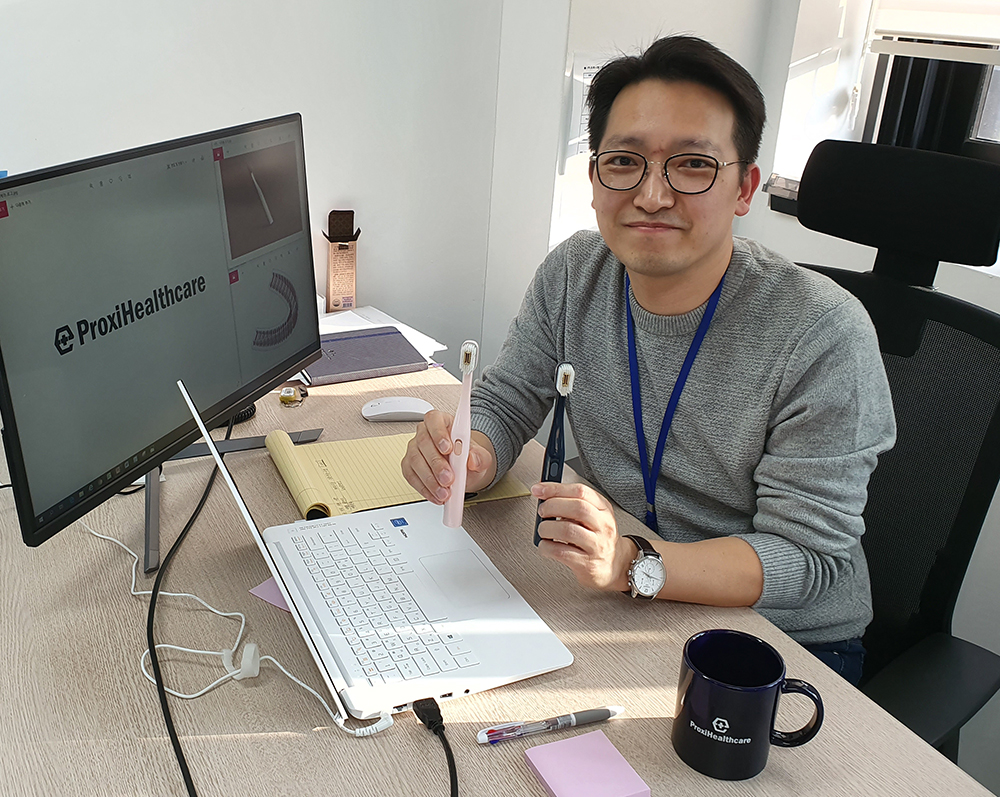 A Clark School of Engineering alum has transferred his Ph.D. research on the bioelectric effect into a pioneering consumer product that improves mouth and gum health. Young Wook Kim (ECE Ph.D. 2014) is the founder of ProxiHealthcare Inc., which manufactures the new TROMATZ toothbrush. First available in South Korea, the toothbrush employs the bioelectric effect to effectively attack the mouth's plaque and tartar biofilms. It has received FDA and FCC approval in the United States and is available for purchase on Amazon.
Bacterial biofilms form in a variety of moist, inaccessible environments—like the mouth—where bacteria can adhere to complex curved surfaces like teeth. Given a little time, bacteria encase themselves in an extracellular matrix, forming biofilm. This matrix offers the bacteria significant protection and makes it easy for them to spread.
Dental plaque, and its hardened state, tartar, are types of biofilm. Left unchecked, plaque and tartar contribute to bad breath, gum disease, and eventually the loss of teeth. While we brush our teeth several times a day to remove this film, there is room for improvement in the tools we use.
How the toothbrush works
The toothbrush propagates a small electric current and field approximately one inch from the edge of the device. The resulting electrostatic force (the bioelectric effect) induces relaxation of biofilm structure and helps detach the plaque from the tooth. This effect is enhanced with simultaneous mechanical brushing. In addition, this "electroceutical" effect can increase the effectiveness of toothpaste and medicines.
Kim notes that because the electric field and microcurrent are activated near gum tissue, they can improve gum health. "The microcurrent aids in the production of adenosine triphosphate (ATP), a resource for cell energy," he says. "ATP helps cells reduce inflammation and pain. With this toothbrush, the user can clean dental biofilms and lessen gum pain, bleeding and swelling, all at the same time."
Although any toothpaste can be used, ProxiHealthcare has developed a toothpaste containing ionic material that maximizes the bioelectric effect 200% over regular toothpaste by reducing total medium impedance.
A product idea born in Maryland
The development of microsystem devices for detecting and treating bacterial biofilm began in the Clark School of Engineering in 2007 and continues today. The latest published paper demonstrates the system in use in a commercial urinary catheter.
Ten years ago, Kim's M.S. thesis contribution was on sensors that could detect the presence of biofilm.
"After my master's degree defense, I thought that detection of the biofilm was not enough to provide a sufficient benefit," Kim says. "The growth rate of biofilms is so fast within just eight hours that if you missed monitoring because you were sleeping, were on vacation, were driving, or just forget to check the device, the benefit of the sensor would be limited."
"So I thought about how I could integrate a treatment method into the system so you could get a real benefit. Based on my medical and electrical engineering background, and the collaboration culture of the Clark School research team, I thought very hard and focused on the electrical properties of biofilms, specifically charge distribution. Since biofilms contain a number of electrical polarized molecules and ions, I got the idea to apply an electromagnetic wave to disturb their biological metabolic reaction and structure."
Kim presented this idea to the research team and his advisor, Professor Reza Ghodssi (ECE/ISR) who supported the hypothesis of applying an electric field as a therapeutic for biofilms. Working with Professors William Bentley (BIOE/Fischell Institute), Gregory Payne (BIOE) and Gary Rubloff (MSE/ISR), Kim demonstrated the proof of concept through experiments, data analysis and discussion. The conclusion was that an electric field coupled with some dose of antibiotics could enhance the efficacy of biofilm treatment. In addition, using lower doses of these often overprescribed antimicrobials and antibiotics is made possible.
Kim developed and demonstrated the bioelectric effect on a biochip system and successfully defended his Ph.D. in April 2014. His research was sponsored in part by the Robert W. Deutsch Foundation and the National Science Foundation Emerging Frontiers in Research and Innovation (NSF-EFRI).
After graduation, Kim returned to South Korea and for a time worked for Samsung Electro-Mechanics Co. Ltd., where he gained experience in product development and gained experience in technology commercialization, including project management skills, cost down, production line improvement and patent protection.
In 2015, after his Ph.D. work was successfully published in journal and conference proceedings, Kim prepared for patent application in South Korea and began planning a business based on his bioelectric effect work.
"I thought about how the bioelectric effect is focused on the electrical properties of the biofilms and works across bacterial species," Kim says. "That means this technology can be applied to different kinds of bacterial biofilms—for instance, mouth biofilms." His idea of a company producing a bioelectric effect toothbrush was born.
On the market
During field tests, approximately half the participants reported their mouths felt as clean as after a dentist visit, and users also reported a drop in perceived bad breath. A clinical trial with a major South Korean hospital demonstrated significant gum health improvement after two weeks' use of the product; this work has been submitted to the Journal of Periodontology.
The TROMATZ toothbrush launched on the Korean market in September 2020. The battery-powered product, which includes replaceable brush heads, is now available on Amazon.
Published June 17, 2021