Spurring research group creativity in the time of COVID-19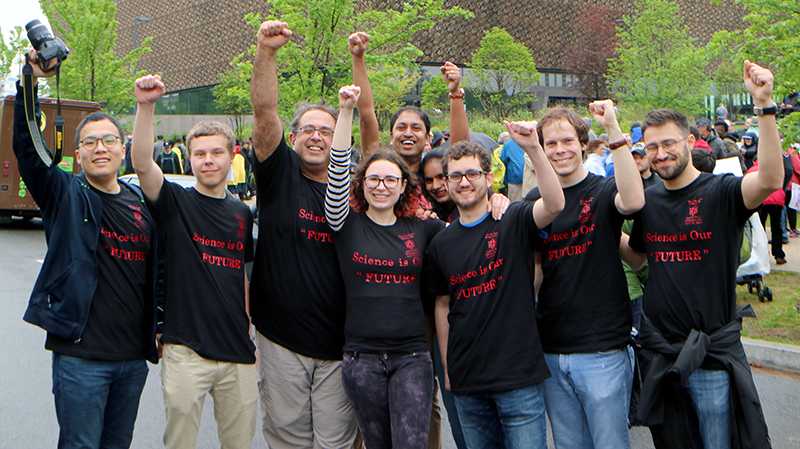 In this time of pandemic, universities look like ghost towns. Classes are online, dormitories are empty, and so are most experimental research laboratories. The pause button has been pressed on most academic research for the foreseeable future.
But academics are creative, forward-thinking people by nature, and have chosen a life of research and teaching. With the right attitude, the shuttering of in-person experimental research actually could become a crucible in which alternative ideas spark. What could be done to further research ideas in this unusual time of physical distancing?
University of Maryland Professor Reza Ghodssi believes that writing review articles for academic journals is a practice that some faculty/student research groups will find profitable. Such projects are a way to keep minds sharp, explore new connections and possibilities, and prepare for a time after the pandemic.
"As an alternative to things we cannot do, it is something for us to do now that can spur ideas for the future," Ghodssi says.
Well-written research review papers in academic journals are great resources for academics, students, entrepreneurs and industry professionals. These snapshots of the state-of-the-art of a domain provide grounding for new conceptual frameworks, reveal opportunities missed by existing research and synthesize diverse results.
Good review papers also provide a solid platform for future research; because their key insights can be extended, they are valuable resources both within the original domain and in seemingly unrelated areas as well.
Writing review papers helps academic research groups working on a major project summarize a field they have come to know well and shows them how their own efforts contribute to the larger bodies of work.
Because of the multiple layers of value, Ghodssi has made it a practice for his research group to write a review paper for each major project they undertake. Ghodssi is a micro-electro-mechanical device expert who holds a joint appointment in the Department of Electrical Engineering and the Institute for Systems Research within the A. James Clark School of Engineering.
To date, the group has produced five review papers: two on the use of the Tobacco mosaic virus as a high-surface area nano scaffold; one on the use of chitosan in lab-on-a-chip devices; and in the past few months, papers on ingestible electronic sensing systems and on microsystems for characterizing and sensing bacterial biofilms.
Not for a minute does Ghodssi believe producing a review article is an easy task.
"Writing a comprehensive review paper about an ongoing research concept and activity in which your research group is involved is one of the most educational, thought-provoking and inspiring tasks that most of us would like to do," says Ghodssi. "But we dread it!"
Review articles can be tackled in three different ways. "Some take an individual approach, others work in collaboration with their faculty colleagues," Ghodssi says. "But there is also a team approach. When I weigh not just the pros but also the significant cons, I might not be motivated to write a review article on my own. But discussing and formulating it with young minds makes a big difference!"
"I prefer a team approach because it allows me to broaden and enhance the intellectual relationship with my students and postdocs," Ghodssi adds "When we write a review paper, we expand our view to a field and are not just focused on one specific work."
How does Ghodssi foster buy-in for such a large endeavor?
"To do a project like this, it's absolutely necessary to gain both the interest and commitment of my group's graduate students and postdocs. We do this through a series of collective discussions, where we establish a roadmap for the paper."
"It must be the group's collective decision that writing the paper will bring us significant added value once the project is successfully completed," Ghodssi emphasizes. "It takes a community to produce a quality review paper while the group is also working on its own projects."
The results are worth it, Ghodssi believes. "Writing the research review article becomes another aspect of their education."
The ingestible sensors paper
This March, while working on a $1M NSF project to create an ingestible sensor that can investigate the complex effects of intestinal serotonin on both gut and brain health, Ghodssi's group published a review of ingestible device research in the American Chemical Society's journal ACS Sensors.
"Ingestible Sensors and Sensing Systems for Minimally Invasive Diagnosis and Monitoring: The Next Frontier in Minimally Invasive Screening" was written by UMD Research Affiliate Luke Beardslee, M.D., Ph.D.; alumnus George E. Banis (BIOE Ph.D. 2019); former postdoctoral researchers Sanwei Liu and Sangwook Chu (also a EE Ph.D. 2018 alumnus); Bioengineering Ph.D. student Ashley Chapin; Electrical and Computer Engineering Ph.D. student Justin Stine; Pankaj Jay Pasricha, a Johns Hopkins University Professor of Medicine and Director of the Johns Hopkins Center for Neurogastroenterology; and Ghodssi.
The article covers the development of and uses for ingestible electronic systems capable of embedded sensing, particularly within the gastrointestinal (GI) tract and its accessory organs. Such technological advances have the potential to make disease surveillance and treatment far more effective for a variety of conditions, allowing patients to lead longer and more productive lives. The review examines conventional techniques, as well as ingestible sensors and sensing systems that are currently under development for use in disease screening and diagnosis for GI disorders, including their design, fabrication, and applications.
Ghodssi hopes the article will be used as a text in engineering classes. "This is such an inspirational field for a review," he says. "Review articles are not meant to only summarize and report on past scientific work. They also should show how new research areas have grown in technical communities, and inspire students, academics, entrepreneurs and industry partners to build on what has already been done."
The biofilm devices paper
Ghodssi's group wrote the review article "Microsystems for biofilm characterization and sensing–A review" as the group's own project on a microsystem catheter insert device to combat bacterial biofilms was drawing to a conclusion. This article was published in the December 2019 issue of the Elsevier journal Biofilm, and was written by alumna Sowmya Subramanian (EE Ph.D. 2016), Bioengineering Ph.D. student Ryan Huiszoon, Sangwook Chu, Professor William Bentley (BIOE) and Ghodssi.
This paper presents current microsystem developments in characterizing and sensing bacterial biofilms. The authors focus on a number of different microsystems for biofilm evaluation, including optical, electro-chemical, and mechanical systems. The review shows how these devices can lead to better understanding of the physiology and function of biofilms, which in turn should promote development of novel treatments that do not rely on high doses of antibiotics to combat them.
This biofilm devices review is a great example of a paper that can have great translational impact for those willing to take the concepts into practice and make these devices a reality," Ghodssi says. "Here, the research has been ongoing for many years. It's important to collect the work so we can motivate additional researchers and educators to teach about the already published results and think about new ways the knowledge can be effectively used."
In 2018, Palmatier et. al. (2018),[1] wrote that good review articles "resolve definitional ambiguities and outline the scope of the topic; provide an integrated, synthesized overview of the current state of knowledge; identify inconsistencies in prior results and potential explanations; evaluate existing methodological approaches and unique insights; develop conceptual frameworks to reconcile and extend past research; and describe research insights, existing gaps, and future research directions."
Ghodssi understands the best review papers take time and effort to complete. Authors must first gather and make critical evaluations of material that has already been published. They then need to carefully identify and synthesize relevant literature to evaluate specific research questions, substantive domains, theoretical approaches, and methodology.
Then, after the "review" portion of the paper has been completed, authors spend more time identifying connections among the literature they have reviewed. This allows them to uncover incremental insights and suggest directions for possible future research—either in the same area or in new and evolving fields not part of the original questions.
Ghodssi says, "When I finish a team-oriented task like writing a review article with my group members, it not only gives me a feeling of satisfaction, but also reassures me that I now have a summary of what my group was able to do. This is something I can pass along to others for whatever purpose they choose—research, entrepreneurship or education."
Three prior review articles
In August 2010, "Chitosan: an integrative biomaterial for lab-on-a-chip devices" was published in the Royal Society of Chemistry's Lab on a Chip. This article by alumni Stefan Koev (EE Ph.D. 2009), Peter Dykstra (EE Ph.D. 2011), Xiaolong Luo (BIOE Ph.D. 2008), Professor Gary Rubloff (MSE/ISR), former Professor Gregory Payne (BIOE), Professor William Bentley (BIOE) and Ghodssi grew out of the group's work on chitosan-based nanosensors for detecting dangerous materials in air and water.
In September 2013, Tobacco mosaic virus: A biological building block for micro/nano/biosystems was written by Xiao Fan (EE Ph.D. 2013), former postdoctoral researchers Ekaterina Pomerantseva, Matthew McCarthy and Markus Gnerlich, alumnus Adam Brown (BIOE Ph.D. 2018), alumnus and former postdoctoral researcher Konstantinos Gerasopoulos (EE Ph.D. 2011), Professor James Culver (PSLA) and Ghodssi. It appeared in the American Vacuum Society's Journal of Vacuum Science and Technology A.
In 2018, an updated review article on the same topic was written by Sangwook Chu, Adam Brown, James Culver, and Ghodssi. Tobacco Mosaic Virus as a Versatile Platform for Molecular Assembly and Device Fabrication appeared as a "mini review" in Biotechnology Journal, Number 13.
These two review articles summarized work using the Tobacco mosaic virus (TMV) as a high-surface-area scaffold with many uses, and were written towards the end of the group's own long-term work using TMV templates to create more powerful batteries.
There are significant benefits once the hard work of researching and writing the review article is over, Ghodssi says. "These benefits accrue not only to me and my group, but to my technical community and my institution as well. Obviously, these papers are widely disseminated, and produce a significant number of citations." But, he adds, "to me, the most important outcome is that the students and postdocs who worked with me on the project will become experts in their respective fields and gain the confidence to do even greater things in their careers than they would have otherwise."
In other words, "It's well worth the effort."
Published April 22, 2020