Clark School researchers figure prominently in atomic layer deposition story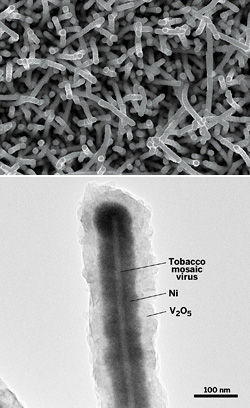 ISR Director
Reza Ghodssi
(ECE/ISR), Maryland NanoCenter Director
Gary Rubloff
(MSE/ISR), Research Associate
Ekaterina Pomerantseva,
and Ph.D. student
Konstantinos Gerasopoulos
figure prominently in a
Chemical & Engineering News
story
about advances in the use of the coating technology known as atomic layer deposition (ALD).
ALD can produce thin films of exceptional quality and first was used in the semiconductor processing field. The technique has a growing commercial importance and is expanding rapidly into technology areas such as lighting and flexible displays, batteries, fuel cells, photovoltaics, textiles, biotechnology and biomedical devices, Chemical & Engineering News's Mitch Jacoby reports.
Rubloff was interviewed about ALD's many new applications and the ALD conference he and Jill Becker, CEO of Cambridge NanoTech, organized this summer for the American Vacuum Society.
Ghodssi, Pomerantseva and Gerasopoulos were mentioned for their research using ALD to coat Tobacco mosaic virus-based nanowires, resulting in novel biotemplated electrodes for tiny lithium-ion batteries.
| Read the story at the Chemical & Engineering News website |
| Read our previous story about Tobacco mosaic virus-based batteries here |
Published August 3, 2011