Clark School team wins AFRL funding for swarm autonomy planning and metareasoning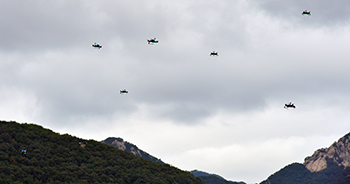 Professor Jeffrey Herrmann (ME/ISR) is the principal investigator for a new award from the Air Force Research Laboratory (AFRL), "Planning and Metareasoning for Multi-Agent Systems with Variable Communication Availability." Co-PIs on the project are Professor Shapour Azarm (ME), Assistant Professor Michael Otte (AE), and Assistant Professor Huan (Mumu) Xu (AE/ISR).
The research is part of AFRL's Autonomous Swarms for Information-aware Mission Operations with Verification (ASIMOV) program, which studies algorithms for swarm autonomy in communications-constrained operating environments. The ASIMOV program is directed by Dr. Jeff Hudack at AFRL.
Coordinating the actions of different agents (such as unmanned aerial vehicles) to perform complex tasks like collaborative search and tracking, are essential to an autonomous swarm. The relative performance of coordination techniques may change as the availability of communication such as bandwidth and reliability varies.
The Clark School researchers will develop hybrid centralized and decentralized multi-agent task allocation methods with different levels of communication availability. They also will build metareasoning techniques to enable autonomous agents to select the most appropriate task allocation method in real-time based on the current state of communication availability and other relevant factors. The team will evaluate the methods in situations that include a swarm of autonomous vehicles fighting a wildfire.
The 18-month project, with an additional six-month option, is funded at $900,000.
Published December 11, 2018