Could a Virtual Friend Improve Your Mental Health?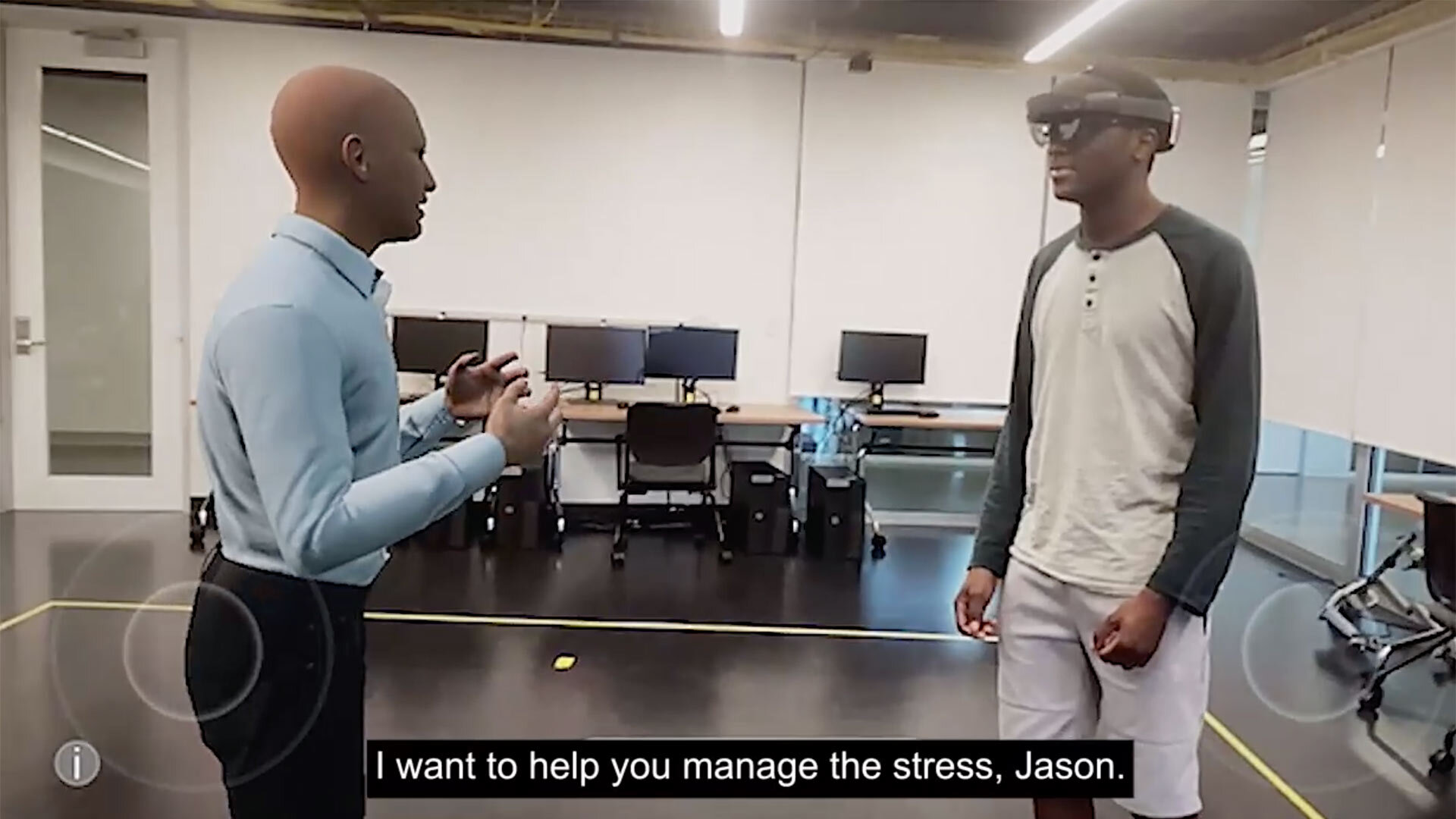 You're feeling nervous as finals week approaches. A friend passing you on McKeldin Mall stops to ask how you're feeling. "Good," you reply with wince and a shrug.
The friend can plainly see from your facial expression and body language that "good" alone doesn't capture the truth about your emotional state. Now, a UMD computer scientist has created a virtual "friend"—an artificial intelligence-driven virtual conversational assistant—which also can understand the subtleties about how you convey emotion.
Project Dost (named for the Hindi word for "friend") combines data about gait, gesture, facial expression and speech intonation to generate the assistant that can interact in culturally sensitive contexts by perceiving, interpreting and responding to your emotions.
A Brain and Behavior Institute seed grant launched the project led by Aniket Bera, an assistant research professor of computer science with an appointment at the University of Maryland Institute for Advanced Computer Studies.
"In our daily lives, many of us use chatbots like Amazon Alexa, Google Home or Apple Siri, but these conversational voice agents feel impersonal," said Bera. "Alexa doesn't have empathy. It isn't expressive. Dost feels more human."
"If you're going to put a human touch on it, you might as well make sure that it's human."
Such virtual friends, he said, could help bridge the gap between the high demand for mental health services and a low supply ofpractitioners, a gap that has grown wider during the pandemic. An AI program that understands human affect can help deploy medical practitioners to those in greatest need or provide information to a therapist. The real-time nature of Project Dost's emotional sensitivity and expression both elicits and registers better information about emotional states, just as a friend would.
"When I say that Dost is an emotional friend, I mean that it engages not primarily with the content of a conversation but rather with how that conversation is happening," said Bera. "The combination of speech, gesture, body language and facial expression is in itself an engineering marvel."
Beyond the continued testing of Dost to ensure its clinical validation, Bera hopes that the project will generate undergraduate enthusiasm for a course in virtual reality crossed with artificial intelligence.
"Maryland is well-known for its expertise in AI, and there are exciting opportunities to strengthen partnerships between AI, neuroscience and computer science—particularly in a course that fully blends AI with virtual reality," said Bera.
###
Media Relations Contact: Nathaniel Underland, underlan@umd.edu
About the Brain and Behavior Institute: The mission of the BBI is to maximize existing strengths in neuroscience research, education and training at the University of Maryland and to elevate campus neuroscience through innovative, multidisciplinary approaches that expand our research portfolio, develop novel tools and approaches and advance the translation of basic science. A centralized community of neuroscientists, engineers, computer scientists, mathematicians, physical scientists, cognitive scientists and humanities scholars, the BBI looks to solve some of the most pressing problems related to nervous system function and disease.
Published November 18, 2021