Shneiderman, Varshney inducted into IEEE Visualization Academy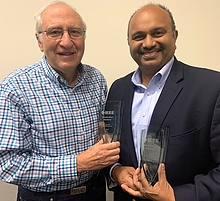 ISR-affiliated Distinguished University Professor Ben Shneiderman (CS/UMIACS) has been inducted into the IEEE Visualization Academy, the highest and most prestigious honor in the field of computer visualization. Joining him in the honor is Amitabh Varshney, dean of the College of Computer, Mathematical and Natural Sciences. The faculty were recognized for their work in human-computer interaction and high-performance computer graphics and visualization, respectively.
Shneiderman and Varshney join 30 other researchers named to the inaugural cohort of the Visualization Academy, established just this year to recognize significant accomplishments by researchers in computer visualization who directly bolster the endeavors of the entire field.
Read more about the honor in this story on the UMIACS website.
Published November 8, 2019