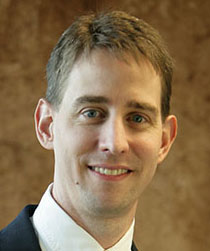 Herrmann, Jeffrey
Professor
Faculty member, Applied Mathematics and Scientific Computation (AMSC) Program
Director, Graduate Program in Reliability Engineering
Director of Education Programs, ISR

Mechanical Engineering
The Institute for Systems Research
Center for Risk and Reliability
Maryland Robotics Center

0151B Glenn L. Martin Hall

Dr. Herrmann earned his B.S. in applied mathematics from Georgia Institute of Technology and was a National Science Foundation Graduate Research Fellow from 1990 to 1993. He received his Ph.D. in industrial and systems engineering from the University of Florida. His dissertation investigated production scheduling problems motivated by semiconductor manufacturing. He held a post-doctoral research position in the Institute for Systems Research from 1993 to 1995.
He has worked on applied research projects supported by NSF, NIST, ONR, the Semiconductor Research Corporation, the U.S. Air Force, the U.S. Army Tank-Automotive Command, Lockheed Martin Missiles and Space, Harris Semiconductor, Northrop Grumman Electronic Sensors and Systems Division, Black & Decker, and other manufacturers in the state of Maryland.
His publications cover topics in production scheduling, engineering design, and operations research for public health preparedness. His current research interests include operations research for homeland security and emergency preparedness and health care systems engineering.
Dr. Herrmann won the 2003 Society of Manufacturing Engineers Jiri Tlusty Outstanding Young Manufacturing Engineer Award.
Education
Ph.D., University of Florida, 1993
Dr. Herrmann's research aims to understand, model and improve decision making. Projects include decision making in product development, safe and efficient UAS operations, emergency preparedness and health care systems, manufacturing process planning and design, production planning and scheduling, manufacturing system design, simulation of manufacturing systems, manufacturing operations and processes.
ENME 426: Production Management
ENME 607 / ENRE 671: Engineering Decision Making and Risk Management
2018
Herrmann, J.W., Michael Morency, Azrah Anparasan, and Erica Gralla, Evaluating Clustering Algorithms for Identifying Design Subproblems, Journal of Mechanical Design, Volume 140, pages 081401-1-12, August 2018. doi:10.1115/1.4040176.
Gralla, Erica L., Jeffrey W. Herrmann, and Michael Morency, Design problem decomposition: an empirical study of small teams of facility designers, Research in Engineering Design, 2018, doi:10.1007/s00163-018-0300-0.
Haynes, Staunton, Jeffrey W. Herrmann, and Paul Zimmerman, Using Discrete Event Simulation to Improve Aircraft Engine Reliability Forecasts, 2018 Annual Reliability and Maintainability Symposium (RAMS), Reno, Nevada, January 22-25, 2018.
Rudnick-Cohen, Eliot, Jeffrey W. Herrmann, and Shapour Azarm, Feasibility Robust Optimization via Scenario Generation and Reduction, DETC2018-85990, Proceedings of the ASME 2018 International Design Engineering Technical Conferences and Computers and Information in Engineering Conference (IDETC2018), Quebec City, Quebec, August 26-29, 2018.
2017
Herrmann, Jeffrey W., Rational Decision Making, in Wiley StatsRef: Statistics Reference Online, DOI: 10.1002/9781118445112.stat07928, published online February 15, 2017.
Shuggi, Isabelle M., Patricia A. Shewokis, J.W. Herrmann, and Rodolphe Gentili, Changes in motor performance and mental workload during learning of reaching movements: a team dynamics perspective, Experimental Brain Research, https://doi.org/10.1007/s00221-017-5136-8.
Morency, Michael, Azrah Anparasan, Jeffrey W. Herrmann, and Erica L. Gralla, Using Clustering Algorithms to Identify Subproblems in Design Processes, in Proceedings of the 21st International Conference on Engineering Design (ICED17), Volume 2: Design Processes, August 21-25, 2017, Vancouver, Canada.
2016
2015
Herrmann, Jeffrey W., Engineering Decision Making and Risk Management, John Wiley and Sons, Hoboken, New Jersey, 2015.
2014
2013
Abbey, Rachel L., Katherine A. Aaby, and J.W. Herrmann, Planning and Managing Mass Prophylaxis Clinic Operations, in Handbook of Healthcare Operations Management, Brian T. Denton, editor, Springer, New York, 2013.
Leber, Dennis D., and J.W. Herrmann, Decision Analysis Methods for Selecting Consumer Services with Attribute Value Uncertainty, in Risk Assessment and Evaluation of Predictions, M.-L. T. Lee, M. Gail, R. Pfeiffer, G. Satten, T. Cai, and A. Gandy, editors, Lecture Notes in Statistics, Volume 210, pages 405-424, Springer, New York, 2013.
2012
2011
2010
2009
2008
Herrmann, Jeffrey W., Disseminating Emergency Preparedness Planning Models as Automatically Generated Custom Spreadsheets, Interfaces, Volume 38, Number 4, pages 263-270, 2008.
Hoy, Timothy W., and Jeffrey W. Herrmann, Optimal utilization of test facilities to replicate operational environments, Journal of the IEST, Volume 51, Number 2, pages 10-19, 2008.
Chincholkar, Mandar, and Jeffrey W. Herrmann, Estimating manufacturing cycle time and throughput in flow shops with process drift and inspection, International Journal of Production Research, Volume 46, Issue 24 December 2008 , pages 7057 - 7072.